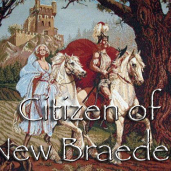 Thank you for your interest in Nova Braeden and, the Citizens of New Braeden Group. The town is open for all to enjoy, as is the sea dock below and the lands behind the town. Please enjoy your time here and feel free to look around, but bear in mind that there are characters homes here and respect their privacy.
Any human characters who regularly play in Nova Breaden or the Cadair Forest are encouraged, to join the Citizens group which is not just for town dwellers. If you read the notecard at this link it will give you further information, links to the structure of the culture, and quests to help you attain high status as a citizen. If you have any questions or wish to RP your way into Nova then please contact any Elder or the Lord Regent.
Pittacus
Lord Regent of Nova Braeden
( Pittacus Resident )
Community content is available under
CC-BY-SA
unless otherwise noted.