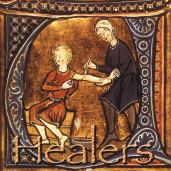 Welcome to the healer guild of the Cadair Braeden sims. Healers play a very important role in the sims, and you can play it in many and varied ways. Our healing is mainly conventional, which means that herbal remedies, needle, thread and bandages are always used before anything magic is attempted. This means that healers are required on a daily basis, as their training is the only way to be able to diagnose patients correctly.

Healers are free to sell their skills to anyone they want to - and refuse to treat someone with the IC consequences this has for the healer and the patient. Some might choose to focus on the making and sale of medical potions, some might deepen their study in herbal remedies, some study the anatomy of all races and some might find their job at a court or for a faction... the opportunities to shape your own role is there.
Community content is available under
CC-BY-SA
unless otherwise noted.